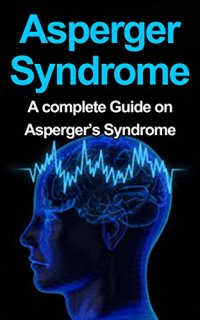 Free on 27th May 17



or borrow free on Kindle Unlimited.
No reviews yet.
Learn A-Z of Asperger Syndrome, Its causes, effects, and best possible treatments to cure it
Today only, get this Amazon book for just $2.99. Regularly priced at $4.99. Read on your PC, Mac, smart phone, tablet or Kindle device.
In this book, I am going to describe some common facts about Aspergers syndrome. In my first section, I tried to explain what Aspergers syndrome really is and how it is different from other kinds of neurological disorder. Aspergers syndrome has many symptoms that come into existence only when a child approaches his or her middle or high school. It really becomes mandatory to recognize the early signs of this syndrome so that the child should be provided proper cure and treatment and that's why I have explained some common symptoms of this syndrome. Many parents are not even sure whether their child is suffering from Aspergers syndrome or other kind of neurological disorder. This book can really help them to understand what really Aspergers syndrome is and how to identify it through analysing some of the common symptoms.
Next, I have written about the common cause of this disease so that you should understand it well. In my next section "Impact of Aspergers syndrome on Children's normal life" I have give a thorough explanation about the various challenges an Aspergers child has to face in his life like social challenges, communication challenges, cognition challenges, sensory and motor challenges. I also explained about the social, communication, and cognition issues that an Aspergers child has.
Then, in my next section called "Treatments for Aspergers syndrome" I have described about some of the common treatment and prevention techniques that should be adopted in case of Aspergers syndrome for giving your child a chance to grow and socialize normally. I have described about the various techniques of treatment like Applied Behaviour Analysis, Verbal Behaviour Therapy, Pivotal Response Treatment, Cognitive Behaviour Therapy, Occupational Therapy, and finally Physical Therapy.
You should have attained a good knowledge at this point of reading my book, so I have provided some basic tips to the parents to give their child a chance to live and grow. Finally, I have tried to provide a motivating conclusion to my book so that you, as a parent of Aspergers child, should not only become alert about how to treat your child but can also adopt the techniques of my book for his or her goodwill.
Download your copy today!

Take action today and download this book for a limited time discount of only $2.99! Hurry Up!!
Tags: Aspergers, Aspergers Syndrome, Aspergers in Adults, Aspergers Kids, Aspergers and Relationships, Aspergers Syndrome in Adults, Aspergers in Teens, Aspergers on the Job, Asperger Love