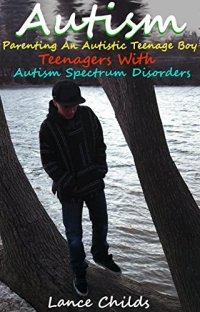 Free on 19th - 23rd Mar 15



or borrow free on Kindle Unlimited.
No reviews yet.
Teen Boys With Autism – Parenting Kids With Autism Spectrum Disorders
Parents are often concerned about their kids coming into their teenage years, and much more so when autism is also at play. They will be dealing not only with the hormonal and physical changes of adolescence, but also with their child's autism spectrum disorder and the struggles that come with it. But educating yourself more about their disorder, their typical behavior coupled with the typical behavioral changes occurring in teenagers and what to expect from them will help you cope as a parent of an autistic teenage boy.
Lance Childs, the author, writes in such a way that you won't be wasting your time sifting through a bunch of useless content. You are going to get straightforward helpful tips to help you guide your child through their adolescent years.
Here Are a Few Things From The Book Autism:
Autism brings behavioral and social challenges to the lives of the person affected with the disorder. After being diagnosed with autism, usually at three to five years old, you will invest years of your life teaching your child about effective communication, social interaction, and dealing with problem behaviors. Unfortunately, you also need to teach your teenage son with ASD about coping with a wide range of emotions, especially intense ones such as depression, loneliness, anxiety, and anger.
Having friends is an important part of the growth of your child, emotionally and socially. Friendships can give him confidence and raise his self-esteem. Social experiences will also help him deal with his emotions, respond to other people's feelings, cooperate, negotiate, and even solve problems with his peers.
Unfortunately, you can't escape the major issue of your son dealing with peer pressure and bullying, especially when he has ASD. His disorder would make him prone to bullying because other children tend to target quiet and shy children who don't have many friends or who don't share the same interest with them.
Going into puberty is awkward as it is, but it can be even more difficult for children with ASD. Social relationships may not be easy for them to develop, but you need to help them deal with these relationships if you want to improve your child's sense of belonging and confidence.
More From Parenting Teens With Autism Spectrum Disorders
What Parents Will Learn From This Book:

How to set boundaries and keep your child on a routineHow to help your son adapt to changeHow to help your teen deal with loneliness, depression, anger and anxietyHow to encourage them to interact with their peers and make friendsHow to help him with peer pressure and bullyingHow to prepare your son for the physical changes during pubertyHow to nurture his special gifts and talents
As you can see this book will give you all you need to effectively help your teenage boy with Autism to develop to his full potential. Parenting a child is a difficult journey, and adding ASD into the equation can make it even more challenging. However, Autism Spectrum Disorders can be managed with the right attitude and the right strategies in play.
Get this book now while it is still being offered at this great price!
Tags: autism, parenting autistic children, autism spectrum disorders, asd, autism treatments, causes and therapies, autistic teens, what is autism, aspergers, learning disabilities, social disorders, autistic kids, autism books