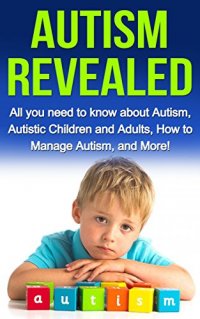 Autism Revealed
Today only, get this Amazon bestseller for just $2.99. Regularly priced

at $4.99. Read on your PC, Mac, smart phone, tablet or Kindle device.
Autism is an often misunderstood condition that affects many people today.

As you will soon discover, autism comes in varying degrees of severity, with different signs and symptoms being shown at each level. No two cases of autism are the same, and each person with the condition has unique signs, symptoms, and triggers of different behaviors.
This book explains the many different levels of autism, along with the possible causes, signs, and symptoms of each.

If you're a parent of an autistic child, how you care for that child will greatly affect their development as they grow to become an adult.

With the help of this guide you'll be able to provide the best care and treatment for your child possible, to ensure that they develop to their full potential.
Autism can be a very difficult condition to live with, manage, and understand. This book aims to prepare you to understand, treat, manage, and live with a child, family member, or loved one who suffers from this condition.
Here Is A Preview Of What You'll Learn About…
What is AutismPossible Causes of AutismSigns & SymptomsAutism in ChildrenParenting a Child With AutismAutism as an AdultCaring for Different Levels of AutismTreatment OptionsMuch, much more!

Download your copy today!
Take action now and download this book for a limited time discount of only

$2.99 to begin learning more about autism today!