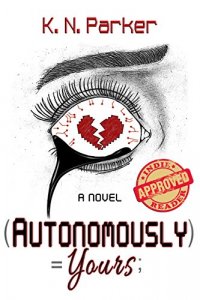 For fans of BLACK MIRROR, WESTWORLD and EX MACHINA, this story of androids and intrigue cannot be missed!
Praise for Autonomously Yours 
***INDIE READER 4 1/2 STAR REVIEW*** 
"AUTONOMOUSLY YOURS is an enjoyable read that does not attempt to answer questions it poses, but engages into deeper understandings of how people treat one another and what it means to be human."  
— IndieReader 
"The novel is certainly provocative and raises some fascinating philosophical questions about what constitutes life, while also shining a light on modern man's misogynistic tendencies… Parker also brings to life quite beautifully Okamura's relationship with Cran, his more traditional, robotic manservant…"  
— Kirkus Review
Synopsis:
Meet Sally: A fully-functioning-female-human-imitation-android, the world's most lifelike automaton. Her physical appearance and her entire personality can be augmented with a simple change in programming. She can be anything and anyone you want her to be.
She's the first of her kind, created as a companion for the lonely men of the world, by Dr. Harold Okamura, a lifelong ambition for him. But, doing so breaks the first law of modern robotics, an offense punishable by imprisonment. Good thing for Harold, then, Mr. Jerrald Axel, the money-hungry CEO that commissioned Sally's creation, is powerful enough to skirt such laws. But that's not the only problem on the horizon. In fact, it's the least of Dr. Okamura's troubles.
Before Sally can be brought to market, she has to go through a trial period. Dr. Okamura and his faithful android servant, Cran, monitor Sally as she is tested by three clients–all men of very questionable motives. Harold's past comes back to haunt him when Sally is programmed to physically resemble his dead wife, from her naturally curly hair to the tiny freckles on her face. The experiment then becomes all too real for him.
Will Harold betray his morals and allow the experiment to follow through to its natural conclusion, or will his conscience prevail? The fate of Sally, and his sanity, hangs in the balance.
Autonomously Yours is an allegorical Science Fiction story of relationships, intrigue and tragedy, as told, literally, through the eyes of the world's first Compandroid.