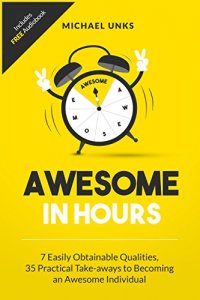 Free on 6th - 8th Dec 15



or borrow free on Kindle Unlimited.
No reviews yet.
Are you living an awesome life or one that is just okay?
A majority are living just okay lives. We only live once, but if it's an awesome one, once is enough.
There is awesomeness inside everyone, but rarely do people bring it out and share it with the world. Why? Maybe they don't believe they can be awesome, or they simply don't know how to bring it out.
I had to write this book. I created an acronym with the word awesome and present 5 take-away points after each letter so you can start being an awesome individual immediately.
Books can be boring, especially if they're too long and go on and on and never seem to get to the point. That's why this book is short and sweet. In under 2 hours you will be provided with 7 qualities of the awesome individual.
I promise that this book will help you become an awesome individual. I promise there are stories and ideas in this book that you have never heard but need to hear to bring out your awesomeness. I promise the take away points will help you apply what you learn immediately.
If we met in person, I know I could see the awesomeness that's in you, but most people only look at the surface. Most people won't know you're awesome until you show them you're awesome. It really would be a shame to not invest in yourself in order to live an awesome life and continue to live just an okay life.
Again, you only live once, but after reading this book you'll be okay with that fact because you'll be an awesome individual!