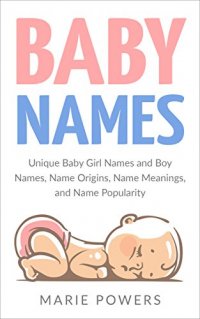 Free on 19th Aug 17



or borrow free on Kindle Unlimited.
No reviews yet.
Choosing a name is one of the biggest choices you will make as you wait for your little bundle of joy to come into this world, and honestly, let's face it: the fun of choosing the perfect name CAN and (most times) WILL get a bit stressful. Choosing a name, especially a unique name, can cause anxiousness.Don't despair, though, changing your mind or not being able to decide on one name isn't uncommon.
There is a wide range of names to choose from these days. Some people are opting for exotic choices from Asia, the Middle East and other far away origins. Others are choosing ancient names from different periods and civilizations, such as the Celts, Romans and Greeks. Then there are parents who are breaking free of tradition and making their own unique name for their baby. These trends are becoming more and more popular; so, you aren't the only one in search for a very unique, maybe even slightly unusual, baby name.
Let this book aide in your search for the wonderful baby name that you are looking for, and relieve some tension you may be feeling along the way. Sit down, relax, and enjoy the unique names in this baby name book, while you get closer to the perfect name for your child.