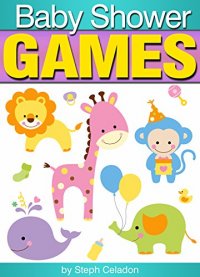 If you're planning a baby shower and are looking for a wide variety of fun games to play, then this book is for you!
Read on your PC, Mac, smart phone, tablet, or Kindle device.
Baby showers are a time for great celebration. Aside from good company, gifts, and refreshments, my favorite part of the party is planning and playing the games. Now, naturally, because of the term "baby shower," many people think that the games and gifts have to be focused on the baby. And while it is important to acknowledge the presence of a new life, and to give the mom-to-be things she will need, it's also important to honor and give some attention just to her.
This book is designed to provide you with a wide variety of fun baby shower games to choose from, including traditional games, get to know each other games, gift-giving games, advice-based games, and finally even more active games for groups who like to get moving or guests that bring small children. Every party is different, but here you'll find plenty of game ideas that appeal to whatever type of party you're planning and the variety of guests you might be entertaining.
Here Is A Preview Of What You'll Learn…
Traditional GamesGet to Know Eachother GamesGift-Giving GamesAdvice-Giving GamesGames for a More Active CrowdIdeas for Prizes and FavorsMuch, much more!Download your copy today!