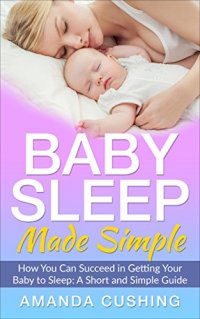 Free on 21st May 17



or borrow free on Kindle Unlimited.
No reviews yet.
Baby Sleep Made Simple
by Amanda Cushing
Are you struggling to get your baby to sleep?
Everywhere you look, there is a wealth of information about baby sleep habits. Some are faddish, some are theoretical, and some are even contradictory. But the ultimate goal is to teach your child healthy sleep habits that allow them to sleep soundly and get well rested throughout the night. After all, when they are sleeping is when the majority of their growth and development is happening.
You may struggle to instill healthy sleeping habits when you are an exhausted new parent, but the truth is, the sooner you start the easier it is. If you feel it is too late for you and your baby is already settled into some unhealthy sleep habits, fear not. There is much that can be done to get your baby back on track and help them sleep soundly throughout the night.
No fads, no theory, no pseudo-science
This book is a simple introductory guide to help parents with babies learn how they can get their child to sleep throughout the night with as little stress as possible. While there is no such thing as a simple one-night fix, following this guide will certainly get you on the right path for having your baby sleep throughout the night. That means you yourself will be that much closer to sleeping through the night again, as well.
Particularly suitable for new parents looking for an introduction to this topic, Amanda Cushing's book covers the following topics:
Daily routines and sleep routines
Preparing for sleep
Co-sleeping
How to manage baby sleep problems when they occur
Whether it is bad habits or a specific ailment causing your baby to stir frequently, there is always something that can be done to make it easier. The steps in this book are simple and can adapt to fit any unique baby and family to ensure that everyone gains value from this process. It will be up to you, however, to stay consistent and confident and make sure that these new habits stick.