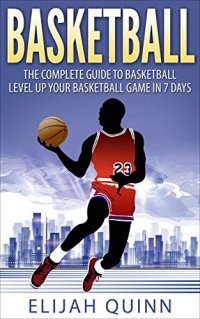 Free on 9th - 13th Aug 15


No reviews yet.
This book appears to be unavailable on Amazon.co.uk at the current time. If this is incorrect, please let us know here
Learn the Secrets of the Game – Become a Better Basketball Player in Just One Week!
Download this book for FREE on Kindle Unlimited – Act Now!

Would you like to be a better basketball player? Does someone you love want to improve their game? Do you need quick and effective results – before the big game?
If so, Basketball – Level up Your Game in 7 Days: The Complete Guide to Basketball is the book you've been looking for! It includes many essential insights and effective practice drills. From the opening Pep Talk to the insightful Conclusion, this book gives you everything you need to know to master the game of basketball!
Do you know the best and fastest ways to become a great basketball player? Would you like to improve all aspects of your game? Do you want to master the essential skills of basketball?
Basketball – Level up Your Game in 7 Days: The Complete Guide to Basketball explains what drills you can practice to improve quickly and efficiently. You'll learn how to build your ball-handling skills, including basic and extreme dribbling drills.
Would you like to make the big shots in the next game? Are you trying to get better at your shooting? Is it difficult to practice and improve?
This insightful book explains how to practice your shooting efficiently and without frustration. It explains common mistakes and how to avoid them and provides fun and effective drills to make you better right now!
You'll even learn the secrets of effective defense, including the man-to-man defense and how to steal the ball!
Here's a preview of what you can learn:
"You may have seen some players making unnecessary jerky movements while taking a shot. Some people have a tendency to lean to their left or right, or fade back as they take a shot, or jerk their body in some other manner. This must always be avoided as it messes with your form and accuracy. If you are prone to this, make a video of yourself taking a shot and then analyze what jerky motion you are making. Then diligently work on fixing it by repeating the shot in perfect form."
Download Basketball – Level up Your Game in 7 Days: The Complete Guide to Basketball TODAY to start making yourself the best player you can be!
You'll be so glad you did!