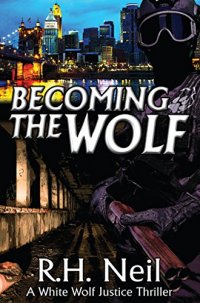 Bargain on 13th Jan 19



or borrow free on Kindle Unlimited.
No reviews yet.
Also Available as:
Print Edition

Who is JD Ward?
A farm boy with combat experience as an Army combat tracker.
A rookie city cop, burdened to solve a cold case that's plagued him since childhood.
And a reluctant vigilante known as The White Wolf. A fierce guardian of justice who uses Cincinnati's forgotten subway—abandoned since the 1920's—to wreak havoc on the wolves.
Now who's the prey?
JD Ward is a fish out of water in the inner city neighborhood of St. Jude, Ohio, but his tracking skills are an asset when it comes to hunting down fleeing suspects.
Goliath Wholf is the leader of the Dixie Wholfpack, a motorcycle gang that functions as the enforcement arm for a violent clan in Kentucky. He's moving in on Cincinnati's drug trade, but his true intentions for the Queen City are far more ruthless. Thousands will perish to quench his thirst for revenge.
The two worlds collide when JD's tracking skills force him to tangle with two Dixie Wholfpack bikers. He barely survives the brutal encounter and learns the gang is only the bottom rung of a crime family that controls gun and drug trafficking in Appalachia. And people who get in the Wholf clan's way have a history of disappearing, including cops and their families.
Tank Maynard, a disgruntled curmudgeon of a cop, knows from experience the kind of bloody street war the Wholfpack will bring to St. Jude. That is, unless they believe someone other than JD Ward is responsible for the disruption.
Tank invents a vigilante to take the blame, creating an uneasy partnership with JD that is fraught with drama. But when there are no more sightings of The White Wolf, the clan begins to question the story. And the police. Reluctantly, JD agrees to masquerade as the vigilante to throw the Dixie Wholfpack off their trail. But instead of just putting on a show, JD Ward is pulled back into a world every bit as deadly as the one he'd left behind in the military.
Now hunted by a psychotic clan, a street gang, and a federal task force, The White Wolf must step out of the shadows to save Cincinnati from Goliath's plan of devastation. But the conspiracy turns out to be more treacherous than JD could have imagined, and more savage than he may be able to survive.
AMAZON CUSTOMER REVIEW: Sam B. Wagner
Excellent and authoritative page-turner – very well put together with challenging opponents and unforeseen memorable moments. JD Ward just wants to be a good cop and better husband and parent – but a homicidal motorcycle gang won't let that happen and when he becomes the White Wolf, to protect the innocent- everything starts to unravel for the bad guys. Filled with outstanding characters and magnificent unexpected twists and turns. This is an outstanding first book for a series which should do very well. Hard to put this somewhat lengthy read down, no matter what the time of day. Well worth the time.
Looking forward to the next edition–greatly appreciate the expertise with weapons and tactics, the cunning adversary, no gratuitous stuff (particularly stupid sex inserts), and a protagonist who fits comfortably and well. I read about a book a day and am reasonably competent for a lot of things — my reading is eclectic and I am reasonably well traveled. So — I do appreciate the accurate details that help the story line sing. Thanks for several well-focused hours. It was a treat.