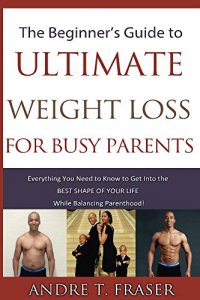 This is a no fluff book that has been condensed down to the essential secrets of weight loss for busy parents like you. I know you are strapped for time and promise you that you can read it in less that 2 hours while sitting in bed on Saturday morning drinking your coffee.
You won't find 100 pages of exercises, cover models and recipes, those are a dime a dozen. Who has 24 hours to read a book when you have tons of kids activities, honey do list? Plus, if you are like me, you probably have a few 300 and 400 page "weight loss" books lying around in your basement or library. The goal of this book is to teach you how to replicate the best weight loss tactics my 20 plus years of scouring books, magazines, videos, seminars have thought me. You just need to spend 2 hours reading my story on how I ended up gaining a six pack of abs, dropping over 20+ pounds and losing 8% body fat—all in less than six months!
This is not a magical book that promises you to lose 50 lb. in 2 weeks. If you do what I teach you in the book for 6 months, you will be amazed at your results.
The book also has an accompanying resource website with my latest updates to help you get into the best shape of your life. The book companion has the following:
* My special Excel and Google Sheets tracking application to show you at a glance if you are on track or not

* Special report what works now in weight loss

* Audio and videos, including me giving a presentation that you can download and play in your car or on your smartphone