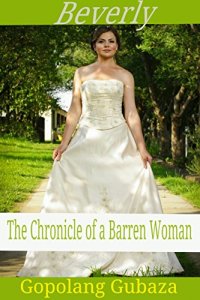 Bargain on 3rd Jan 19



or borrow free on Kindle Unlimited.
No reviews yet.
Beverly the Novella intertextualized the account of Hannah in the Holy Bible, which is narrated in a modern perspective. Hannah was barren and due to her supplication on the altar, God heard her and blessed her with a child.
Beverly is a young colored lady who is barren and unfruitful. Her untreated wound which was caused by a break-up with George created a picture of worthlessness in her mind. The current state of Beverly draws her to develop intimacy with God Almighty. The conflict and opposition escelates as she erect the altar to the LORD. Her sisters in the faith turned against her in mockery. She become uncomfortable being around the crowd. Her secret of barrenness was exposed, and was a thorn in her flesh which tormented her. Her life became roller-coaster, packed with sadness and happiness. Her persistent in prayer lifted up the heavy burden. God's favour led her to be married by a Pastor's son. God blessed her with a female child, whom they named Grace. Disbelieving hearts were reconciled to God due to the miracle He granted to Beverly.