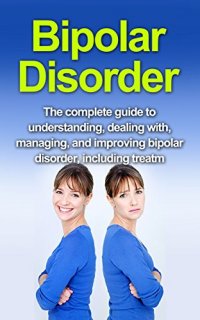 Bipolar Disorder
Today only, get this Amazon bestseller for just $2.99. Regularly priced

at $4.99. Read on your PC, Mac, smart phone, tablet or Kindle device.
Bipolar disorder can be a tricky condition to diagnose, understand, and manage.

This book will explain to you exactly what Bipolar Disorder is, and how it is properly diagnosed.

You will also learn about the key signs and symptoms that a person with Bipolar Disorder may display.
Whether you personally suffer from bipolar disorder, or someone close to you does, this book will provide you with the insight necessary to properly understand, manage, and deal with the condition.
You will learn about the different types of Bipolar, and how to treat each one.

This book explains the different medical treatment options, as well as self-help techniques you can use to help treat Bipolar.
With the help of this guide you will be well on your way to successfully managing your Bipolar Disorder, and living a healthy and prosperous life!
Here Is A Preview Of What You'll Learn…
What is Bipolar DisorderSigns & SymptomsTypes of BipolarBipolar MedicationsPsychotherapy Treatment OptionsAlternative Treatment OptionsSelf-Help StrategiesLifestyle Changes for Bipolar ManagementMuch, much more!

Download your copy today!
Take action today and download this book for a limited time discount of only

$2.99 and begin learning more about Bipolar Disorder today!