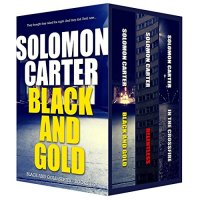 It's time for a new type of hero…and a dark kind of justice. Meet Simon, the Man in the Mask, the dark star of the thrilling new Short Read series… BLACK & GOLD. This boxed set edition comprises the first three ripping yarns of the Black and Gold vigilante justice adventures…
BLACK AND GOLD 1

In a ghetto occupied by a ruthlessly violent youth gang, one man is ready to stand up for the silent majority, ready to do whatever it takes to claim back the night. One man… One mask… with enough righteous anger to bring the world crashing down upon their heads.
This man has no super powers. He doesn't wear a cape. He lives in a bruised and battered world just like the one outside your window. He has watched his home town fall into the clutches of deadly crime and corruption. And he can stand no more. Tonight, the evil young gang making the headlines are about face their judgement.

But the vigilante is not alone. Discovering that the troublesome young blonde has followed him into deadly danger, the man in the mask has a dilemma. Can he survive the onslaught while fighting her another's life?
RELENTLESS, BLACK AND GOLD 2

The looming tower blocks of the Kingsmere Estate are home to every kind of menace. It's a place many fear to tread. Early one morning a man on a mission comes knocking. And he isn't going away until he gets what he wants.
Dark forces stand in his way. Organized crime and deadly criminals are intent on his demise. And must get out of the area quickly before daylight or risk capture by the police.

But when Simon sees another incident unfolding he can't help but get involved. But Simon soon wonders whether if it's a case of one job too many…
IN THE CROSSFIRE, BLACK & GOLD 3
As rumours circulate of a dangerous protection racket blackmailing the small businesses of the town, the ever impetuous Jess takes bold risks to play amateur sleuth and starts combat training in a bid to become Simon's equal.
There is a ruthlessly violent new team in town. Is Jess playing with fire at the worst possible time?

Life for the vigilante is getting complicated and more dangerous by the day. From hunter to hunted, from cold blooded animal to discovering unwelcome emotions is the Man in the Mask losing his way when he needs to be at his clinical best?
And when the streets are filled with blood and broken glass, the vigilante and his persistent companion may face their greatest tests yet.
In the heat of battle anything can happen…
BLACK & GOLD – an epic Vigilante Justice Action and Crime Thriller Adventure. It's fast paced and action packed to the very end!
The Black and Gold series can be categorised as:

Thrillers and Mysteries Best Sellers New

Organized Crime Romance

Vigilante Justice Action Thriller

Vigilante Justice series

Mystery Series Most Popular

Crime Thrillers Best Sellers

Thrillers 100 Must Reads

Action and Adventure

Organized Crime