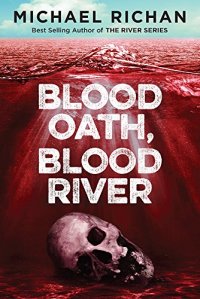 Free on 6th Jul 19



or borrow free on Kindle Unlimited.
No reviews yet.
"One of the most exciting new series!"
Downwind: the area of the United States that received the brunt of the fallout from nuclear testing. As a result, humans developed cancers and congenital malformations… and so did the creatures in the River, the place where people with "the gift" see things others cannot.
Twenty-year-old Deem is gifted, but she is on her own without her mentor, her late father. Deem's family is tormented by a strange creature that climbs on their roof at night and infects the house with poison. With help from the charismatic Winn, Deem tries to stop the attacks, but this is only the beginning, with more ghosts, Callers, and mutated creatures to come.
Deem met Steven and Roy when she helped save their son from the ghosts at St. Thomas. She was impressed by Roy's use of their ancestors' journals to assist with their work. Deem is confident her father left behind a journal for her somewhere, but her dangerous search becomes riddled with menacing secrets and revelations, putting people's lives at risk.
Deem and Winn are not alone; they are helped by Awan, a handsome Paiute who knows Native American tradition and can explain the strange forces targeting Deem. They also meet Carma, a friendly soul with a fantastic and valuable secret buried in her house.
Blood Oath, Blood River is the first book in The Downwinders series, a spinoff of The River series, in which Deem and Winn first appear in Book Six, Devil's Throat. Blood Oath, Blood River is a stand-alone novel; no prior experience with The River series is necessary to enjoy it. Fans of The River series will be intrigued by this new exploration of the River, set in a place where downwind radiation has made the ghosts and creatures of the River strange and unpredictable.
Praise for The River Series from Amazon readers:
"Truly scary."
"Finally found a book that got under my nerves!"
"Couldn't put it down…wanted the story to go on and on."
"Very few authors can pull me in immediately and make me feel as though I were reading about old friends. Stephen King always has, and I can now add Michael Richan to the list."
"Awesome ghost story with wonderful characters and a great plot!"
"Some of the most delightful reading I have done in a long time."
"This was a great horror book. I absolutely loved it, and I know you will too! Keep the lights on when reading!"