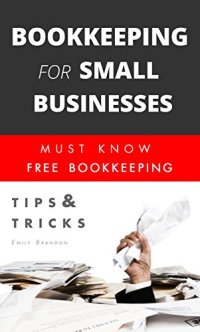 Free on 26th Mar 15


No reviews yet.
This book appears to be unavailable on Amazon.co.uk at the current time. If this is incorrect, please let us know here
Bookkeeping for small businesses
MUST KNOW Free Bookkeeping Tips and Tricks
For a limited time only, get this Amazon bestseller for just $2.99. Regularly priced at 4.99. Read on your PC, Mac, smart phone, tablet or Kindle device.
This book contains proven steps and strategies on how to manage the revenue and expenses of the business especially for small businesses.
You'll learn
Simplified solutions for receiptsGuidelines for your spreadsheetReceivables and PayablesManaging your inventoryRaw materials for productionTips to ensure early receivablesManaging your cash requirementssystematizing your obligationsDownload your copy today!
What others are saying
"Managing a business can be frustrating if you don't know how to do bookkeeping. It is an essential component to make your business successful. This book covers the basics like effective budgeting and taxes. I recommend this to people who wants to learn more about bookkeeping."
"It is a very informative book,a comprehensive guide on how to successfully do the bookkeeping . The book contains a step by step and straightforward approach to bookkeeping for a small business.The author shares some very useful tips on how to save on financial statements, payrolls, budgeting, and taxes and whether to hire a professional or get a software, their advantages and disadvantages, etc. An excellent reference for small business owners."
"Part of being successful in business is proper book keeping.

If you want to get into the business of bookkeeping, then this book is a must read. It gives you the basics and all the information you need to become a bookkeeper.

It has great tips and advice for those who want to build their business at home. Very easy to understand especially for beginners."
"It is a very informative book, a comprehensive guide on how to successfully do the bookkeeping . The book contains a step by step and straightforward approach to bookkeeping for a small business.The author shares some very useful tips on how to save on financial statements, payrolls, budgeting, and taxes and whether to hire a professional or get a software, their advantages and disadvantages, etc. An excellent reference for small business owners."
Tags: bookkeeping for small business, bookkeeping, bookkeeping free, bookkeeping for home businesses, Bookkeeping for small businesses, bookkeeping, bookkeeping free, bookkeeping for home, Accounting, bookkeeping 101, bookkeeping for home based business