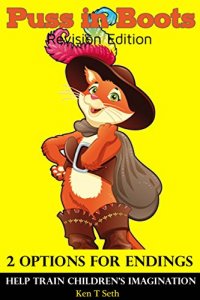 Bargain on 13th - 17th Mar 18



or borrow free on Kindle Unlimited.
Top - Reviews - Update Details
Books For Kids: Puss in Boots (Revision Edition) with SPECIAL 2 OPTIONS ENDINGS, Children's books, Bedtime Stories For Kids Ages 3-8

(Early readers chapter books, Kids books age 4 8 free for Kindle unlimited,Early learning, Bedtime reading for kids, Bedtime stories for kids, Early Readers Level 1)
Early readers / bedtime reading for kids / bedtime stories for girls / bedtime reading for children
Puss in Boots
Bedtime Stories Free for Kindle Unlimited Program
Do you need help getting your children to love reading?, This book will help to train your childen's imaginations
This is not just the story your children already know. We produce the popular stories as new.
More importantly, We provide 2 options for endings for our bedtime reading for kids.
We believe this book will help your child become a creative thinker and a good learner.
Scroll up and grab a copy today