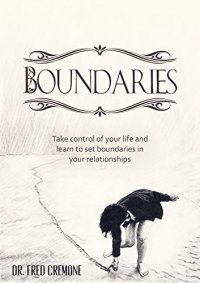 Free on 5th - 9th Apr 15



or borrow free on Kindle Unlimited.
No reviews yet.
Welcome to your guide on how to set various life boundaries!
Free bonus inside! (Right After Conclusion) – Get limited time offer, Get your BONUS right NOW!


Do you often find people abusing your private space?
Would you like to know the basics on how to set your boundaries and prevent people from crossing them?
A concise guide for parents, workmates, children and every other person to learn the best tips on creating reasonable boundaries. The guide outlines the limits, responsibilities and other aspects of human relationship with their families, friends, workmates and children.
This guide will provide reasonable rationale for anyone to benchmark while making the bold steps in life. Any successful man or woman can always bank their capacities on the influence of their life goals. It is a healthy life skill when you understand the boundaries of your life. This is a culture you should develop from young age through your adulthood. This book will discuss on the various boundaries and how to set them in life. It is a resource that is gold mine for parents as they instill the culture of setting limits in their children; seniors as they come up with structures on how to relate at work among other aspects of life.

You do not have to be a specialist to come up with your life boundaries. With this guide, anyone can learn the best tips on how to set up limits in their families, at work and with their friends. Additionally, the resource considers the inputs of trained counselors who could expand on the knowledge gained here so as to come up with the outright life boundaries. The book places emphasis on the need for boundaries.

Life that has no boundary could be really flawed. The book will highlight on the various opportunities, healthy and balanced lifestyle chances one could miss with such a lifestyle. Some of these may include the basic spiritual growth opportunities such as what and how much to give. This guide will illustrate the limits of any life boundaries, their importance and what they are founded on. Life is a package of highs and lows- from marriage to work place and friends- we need to understand the best ways of solving the conflicts that may arise.
***Limited Edition***

Download your copy today!