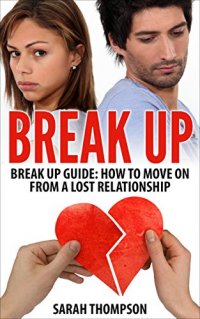 Free on 16th - 19th Apr 15



or borrow free on Kindle Unlimited.
No reviews yet.
The Ultimate Guide to Breaking Up – How to Break Up Gracefully and Move On
Today only, get this Amazon bestseller for just $2.99. Regularly priced

at $4.99. Read on your PC, Mac, smart phone, tablet or Kindle device.

This book contains proven steps and strategies on how to deal with problems within a relationship and if in any case, it cannot be resolved, how to let go without destroying yourself in the process.

If you are in a relationship, you can also refer to this book and use it as a reference for situations that you think you may encounter in the near future. Remember: Prevention is better than cure.

Breaking up with someone who once meant the world for you is really devastating. In this book, you will be presented with different ways and steps on how to keep yourself fully intact while your world started to fall apart. Every heart break is meant to hurt, just like pain is meant to be felt but you can still keep a positive outlook in life and in your relationship through this pain and gracefully fall back to where you truly belong.

The book is divided into two parts; the first three chapters discuss the root-cause of a failed relationship while the remaining three latter chapters will discuss the steps and tips on how to take care of yourself while in the process of breaking up and moving on. This will also discuss why you reacted the way you did.
Here Is A Preview Of What You'll Learn…
What Are The Main Reasons For Breaking Up How To Prevent Break UpsHow To Break Up Gracefully & RespectfullyHow To Move On After A Break UpMuch, much more!

Download your copy today!

Take action today and download this book "The Ultimate Guide to Breaking Up" for a limited time discount of only

$2.99! Download Today!
Check Out What Others Are Saying…
By Sam Pabi

This book is a great guide. Here is your foolproof guide to navigating your breakup. Follow these simple directions and I can guarantee a minimum of stress and heartbreak. If you desire, this technique will ensure your probability of reconciliation is maximized.
The bad news is, this is the hard part. The good news is, this is the part of the Ultimate Guide to Breakups over which you have the most control. It is the centerpiece of the method, and your stamina during this phase will determine your success later on. I highly recommend this book!
By Mike C

I was looking for a book that would help me with breaking up with my girl and I came across this. The author provides many valuable tips on how to approach a break up and how to deal with the long term effects. I appreciate the step by step plan laid that was laid out in this book so I can execute my upcoming breakup without hesitation. Congrats to the author for making an extremely useful relationship book!
By Daniel A.

It took me about 5 years to get over my first break up. I've now finally moved on. I'm with the woman of my dreams and I love her. Those were tough times. Looking back, I honestly wish I had read something to help me out of my suicidal tendencies. This is a short book but really speaks the truth. There are legitimate tips here and they work in sequence. Good read.

By Tesa Megan

What a wonderful book. Insightful, compassionate, inspiring and helpful. Anyone going through a breakup should read this for advice and support. It was like having a best friend put their arm around me!
Tags: breakups, breaking up, love sick, divorce, healing, building up confidence, broken heart, relationship, marriage, breakup recovery guide, recovery, help, break up self help, breakup survival, breakup rehab, break up recovery