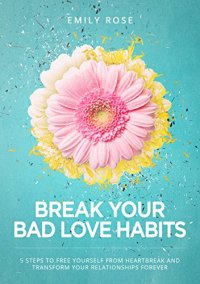 Why do we stay stuck in unwanted relationship patterns that keep us in addictive relationships, breaking hearts and being broken hearted?
How can we break free from the relationship issues that keep us locked in unfulfilling romantic partnerships?
In her self-help relationship book for women, Emily Rose guides the reader through an inner journey that facilitates a perspective shift, answering these and other challenging questions that hopeless (and hopeful) romantics have been seeking for years.
This book will teach you not just how to break a bad habit, but how to break your bad love habits.
Your source for the ultimate relationship and dating advice for women and men
In this how-to guide and corresponding relationship workbook, you'll discover:
– Exercises to implement immediately to help you attract the love and respect you deserve;
– Practices to take into your everyday life to instill healthy habits in life and love;
– Worksheets that will reveal unconscious patterns so you can stop playing relationship games and start having successful, fulfilling romantic relationships.
Break Your Bad Love Habits takes the reader through a 5-step process that helps them to have more authentic, fulfilling, and successful romantic relationships.
This book will teach single ladies and gentlemen and people currently in relationships techniques that will help them let go of the past, stop being codependent, and learn to love themselves first and then call in their ideal partnership.
This book presents familiar scenarios and gives clear, actionable steps for creating the best dynamic possible in (and out) of romantic relationships. 
The download of this book includes a free relationship workbook that will add another dimension to the reader's transformation process.
This relationship advice book will help you ditch those toxic relationships, build trust in relationship, have better relationship communication, and ultimately help you call in the happy relationship you crave.
Amplify your personal power with these invaluable relationship tips, and learn how to love from a place of love rather than fear.