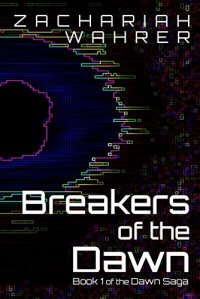 Humanity has fallen from its once majestic place amongst the stars. Desperate for more resources and colonizable planets, humans wage xenocidal war on the peaceful Enthos.
Dispatched by the Founder to subdue an uprising, Crasor Tah Ahn unearths an alien relic. It somehow knows everything about him, even his darkest secrets. The device promises unimaginable power. Crasor knows it's the opportunity of a lifetime, but can he trust the strange artifact?
Across the galaxy, a dissimilar group of humans are brought together by chance. As they learn more about each other, however, they sense strange forces at work. Can they discover the truth before the rising darkness destroys them all?
The first book in the four part saga, Breakers of the Dawn is epic science fiction, featuring a diverse cast of characters. It's easy to read, but hard to put down.