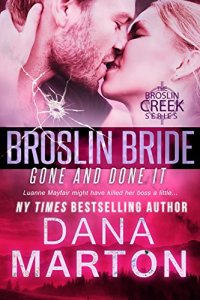 Free on 29th Jun 17 - 3rd Jul 17


No reviews yet.
"…what a delight!!… An extremely fun read with moments of great hilarity, some surprisingly steamy interludes and good suspense with unexpected twists and turns… A plucky, touching, slow-burning and vivid puzzle." Ripe For Reader Reviews
Luanne Mayfair might have killed her boss a little. Or a lot. Okay, pretty much all the way. Or did she? Earl Cosgrove sure is dead. Unfortunately, Luanne doesn't remember the night in question.
All she knows is that the detective on the case is Chase Merritt, her old high school boyfriend about whom she might have spread the rumor that he was bad in bed. Okay, she did. She definitely did that.
Dear Lord, please let the man not hold grudges…
"A quirky murder mystery that leaves you guessing until the end." SNS Reviews
"Marton knows what makes a hero…her characters are sure to become reader favorites." RT Book Review Magazine
Scroll up and click to purchase right now. Enjoy!