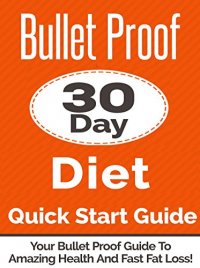 Free on 29th Aug 15 - 2nd Sep 15


No reviews yet.
This book appears to be unavailable on Amazon.co.uk at the current time. If this is incorrect, please let us know here
Bulletproof 30 Day Diet Quickstart Guide. Lose Up To 15 Pounds in 15 Days! BONUS – Bulletproof Cook Book, Recipes and 30 Day Meal Plan!!
Today only, get this Amazon bestseller for just $0.99 cents. Regularly priced

at $6.99. Read on your PC, Mac, smart phone, tablet or Kindle device.

Buttered Coffee You Say….
Are you crazy or just insane??
Maybe a little of both ..
But the real definition of insanity is doing the same thing over and over and expecting different results.
And I'll bet you a pound of bacon that you've been exercising, restricting your food intake, and fighting hunger and cravings on a daily basis for years with little to no results.
But don't blame your willpower, your age, your genes or your metabolism.
They're NOT the culprits here.
The blame lies squarely on the 'healthy eating' information that we're been brainwashed into believing for the past 50 years.
It is time to pack up all the things you think you know about metabolism, food, and healthy eating.
It's time you become BULLETPROOF!
If you are at all familiar with the effectiveness of the Paleo diet or Ketogenic diet, then no doubt you've heard of buttered coffee made famous by author David Asprey. Becoming bulletproof means your combining a few of the most effective diets methods ever created.
The Bulletproof Diet 30-Day Quick Start Guide will quickly and easily get you started on your bulletproof journey today so you can begin dropping fat quickly while improving all your health. You'll also find an easy-to-follow 30-day eating plan, along with delicious recipes to get you started.
Believe me, buttered coffee is just the beginning of many things you will come to love about becoming Bulletproof!