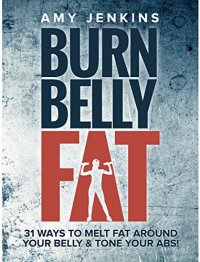 Free on 30th Oct 18



or borrow free on Kindle Unlimited.
No reviews yet.
Tired of trying to lose weight but seeing no results? Want to burn fat around your belly? Keep reading!
FREE BONUS INCLUDED: If you download this book, you will get a FREE DOWNLOAD of a best selling book from Amy Jenkins, How To Be Happy! Real Ways You Can Achieve True Success & Happiness In Your Life!
From the best-selling author, Amy Jenkins, comes Burn Belly Fat: 31 Ways to Melt Fat Around Your Belly & Tone Your Abs! This book will help you begin improving your health and seeing results in just a few days!
If you are trying to lose weight and burn fat around the belly…
If you are sick of seeing no results after weeks of dieting and exercising…
Or if you just want a sexy body, to feel energized all day, and live a healthy life…
THEN THIS BOOK IS FOR YOU!
This book provides you with 31 ways to specifically burn fat around your belly and work out your abs in just a few days!
It comes with tons of proven tips, effective workout routines, and all the information and simple steps that you need to implement these IMMEDIATELY into your life!
If you successfully implement these tips, you will…
o Start losing weight and burn your belly fat FAST
o See awesome changes and tone your body within days
o Say goodbye to inches off your waist and other hard-to-lose areas
o Gain confidence with your new sexy body
o Transform your body and mind in JUST A FEW DAYS!
Tags: burn belly fat, belly fat, how to burn belly fat, lose belly fat, burn fat around belly, how to lose weight, how to burn fat