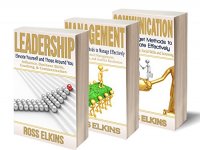 Free on 8th - 12th Jan 16



or borrow free on Kindle Unlimited.
No reviews yet.
Also Available as:
Print Edition

PLEASE NOTE: You DON'T need a Kindle to buy this. Available for immediate reading with your Amazon virtual cloud reader
2nd Editions 3 Book Box Set::
Leadership: Elevate Yourself and Those Around You – Influence, Business Skills, Coaching & Communication
Management: Golden Nugget Methods to Manage Effectively – Teams, Personnel Management, Management Skills, and Conflict Resolution
Communication: Golden Nugget Methods to Communicate Effectively – Interpersonal, Influence, Social Skills, Listening
"Leaders aren't born, they are made. And they are made just like anything else, through hard work. And that's the price we'll have to pay to achieve that goal, or any goal." – Vince Lombardi
By implementing the strategies taught, you will definitely maximize your potential as a leader by gaining the respect and trust of those around you. You will become more approachable, and easy to work with. Your communication skills will become top-notch; people will find you irresistible which will open the way for meaningful conversations at work.
This will also help you take your business to greater heights as you experience successful business relationships with your colleagues and business partners.
Here's Why You Should Get This Box Set:
Learn the Qualities of an Effective Leader

Learn What is Expected of a Good Leader

Learn the Strategies for Leading in Business

Learn about Business Coaching

Learn The Don'ts for Good Leadership

Develop an effective team management skill

Groom team members and develop their skills

Manage conflict resolutions

Learn about intervention strategies

And much more!
Take action today!
Want more?
Click the "Buy" Button above!