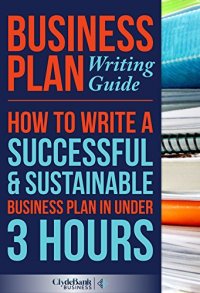 Free on 27th Nov 15 - 1st Dec 15


No reviews yet.
#1 Amazon Best Seller: The Ultimate Guide To Writing A Game Changing Business Plan In Under 3 Hours!
***SPECIAL LIMITED TIME OFFER ***
So you have an idea for a start up, an idea that could potentially be worth millions, even billions! Maybe its for a software program, a multi-platform app, perhaps a new niche retail store. This idea could change your life, and even more, it can change the world! So, now what? How do you turn that idea in a real life thriving business? How do you take some chicken scratch on a napkin and turn into a dollar symbol? Do you need to have your MBA, a CEO as your mentor, or $200 million in seed money? No! What you need is far more simple and it can be created in as little as 3 hours!
What you need is a Business Plan. As simple as it sounds, a Business Plan is a "plan" for your business. Think of it as the blueprint for a house. It will show you how to go from start to finish while showing you all of the pieces you will need along the way. A business plan will take an idea or concept for a business and can turn into a reality within as little as 3 hours.
In order to create a successful, sustainable business you need a defined and developed strategy for acquisition of funds, market analysis, advertising, structure, scaling as well as several other elements. Your initial creation will by no means be a final copy, however, it will serve as a point to build from that will expand in line with the growth and vision of your business.
One of the keys to creating a successful business is the manner in which you implement your Business Plan. In order to to do this, you NEED a Business Plan that is all inclusive, a plan that will account for future growth while being realistic about current position. In this book, I'll teach you EVERYTHING you need to know so that you can build such an amazing business plan that it will turn your idea into a profitable and sustainable business model overnight!
Broken down into simple and easy to understand concepts, This Book Will Guide You From Start To Finish While You Create Your Business Plan. I'll show you exactly what should be in your Business Plan and what is simply a waste of time. Through practical examples and easy to replicate implementation, I will help you create the foundation of a business that will be able to succeed for years and years to come. With some sneaky tricks I have developed over the years, you'll literally be able to "short circuit" the path to creation of your business plan and come out the other end with a far better finished product than you could have ever imagined.
Start your business off on the right foot and learn how to make an amazing Business Plan with this book today!
Here Is A Preview Of What You'll Learn…
The Principles & Philosophies of A Successful Business PlanThe Tools & Techniques That Can Help You Build You Business Plan (Hint: Not What You Think)Tips & Tricks To Ensure Your Business Plan Does Not Limit Development & GrowthHow To Complete Research That Will Allow You To Be In Control of Your Target MarketHow To Utilize Your Business Plan To Start Your Dream Idea NOW!The Top Mistakes to AVOID That Beginners Make With Business PlansA FREE Gift from Clydebank Media Worth Over $250 Dollars!Much more!
Our Personal Guarantee
We are so confident that methods outlined in this book will help you create a Business Plan that we're willing to let you try the book risk-free for 30 days. If you are not fully satisfied with the product, simply let us know and we will provide a 100% full refund. That's right, a 30-day Money-Back Guarantee! What reason do you have to not give this book a try?
Scroll Up To The Top Of The Page And Click The Orange "Buy Now" or "Read For Free" Icon On The Right Side Right Now!
ClydeBank Media LLC

All Rights Reserved