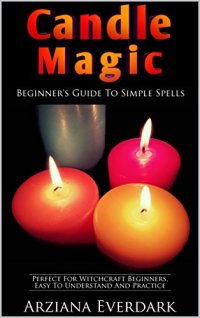 Free on 29th Oct 18



or borrow free on Kindle Unlimited.
No reviews yet.
A Guide to Beginner's Candle Magic Like Never Before
This book is your go-to source for learning candle magic. It's a no frills hands-on book that is packed with useful information and tips and is easy to use even by those who have never practiced magic before.
This book goes beyond a simplified guide; it becomes a source of magic and power. I wanted to create a place of self-exploration where the reader will learn something about themselves whilst reading / practicing candle magic. This is why I have included subjects which are often kept away from a beginner's guide: hexing, banishing, why your spells failed, the mindset behind successful magic, how to protect yourself against others magic, how to break a spell you have created, a step-by-step process to creating your own spells, and much more.
Alongside that you have an easy guide to candle magic containing a colours table, an easy to understand and remember herbs table, magic oil recipes, spells with full instructions and chants.
Magic doesn't have to be this complicated rocket science. It's easy, fun and introspective in such a way the learning comes from within.
So here is to the brave, the ones who make their own magic!