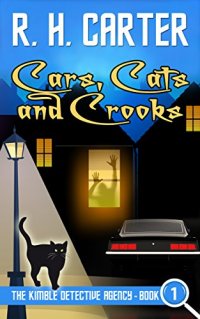 Ever Dreamt Of Becoming A Detective? – Peyton Has!
Peyton Kimble is 42 years old and has recently been made redundant from his boring dead end job at an independent car factory in Chester, UK. What should he do next with his life?

Become a private detective, of course!
Although the answer is obvious to the imaginative and intelligent Peyton, who feels like he's been waiting for this opportunity all his life, his other half, Sherri, initially thinks he's having some sort of mid-life crisis. But with the support of his sister Ros and her eighteen year old lazy, but clever drop-out son, Jackson Chadwick – who soon becomes Peyton's assistant – the 'Kimble Detective Agency' takes off with a bang!
Their first case is the mystery of Mrs Boggins' missing cat, a seemingly simple, boring and childish investigation which actually ends up being a little more complicated than they initially imagined, and lands them an article in the local paper after their heroic rescue of poor Speckles.
But when Gordon Tate turns up dead, Peyton and Jackson are drawn into an entirely more sinister world that will change both their lives forever. The police rule the death as a suicide, but Peyton and Jackson have other ideas.

Will The Outcome Be A Total Success?
With all the evidence stacked against them and even the police turning their backs, can Peyton and Jackson prove that this was something more than a simple suicide?
The revelations, they uncover, will turn Peyton's entire family upside down, dredging up old secrets and scandals from the past that most thought were long buried and forgotten.

Scroll Back Up & Click BUY NOW To Discover The Secrets Of The Past