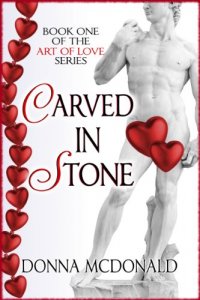 Bargain on 29th May 20 - 2nd Jun 20


No reviews yet.
They say you marry a person and not a family, but tell that to a Larson bride.
A year has passed since his ex-wife remarried. Now Will Larson's adult sons have decided he needs their help to start dating again. His growing desperation to date retiring high school art teacher, Jessica Daniels, makes Will think suffering their help might be worth it. The skilled sculptor carves masterpieces from stone but soon discovers that he has a lot left to learn about the art of love.
Even though his sons tease him about not dating, and his ex-wife thinks he is still hung up on her, 53 yr old retired principal and stone sculptor, William Everett Larson, is glad he waited to date until he found 47 yr old high school art teacher, Jessica Daniels. He admires Jessica for her courageous art and for how she has dealt with the trauma of her life. While dating him works for her, Jessica assures Will she is incapable of lasting love, but he refuses to believe it's true. Will is sure the only part of Jessica truly damaged by her past is her heart.
About the Art Of Love series…
The Art Of Love series begins with the stories of the three Larson men. Books 1-3 cover the romances of Will Larson and his two adult sons, Michael and Shane. Each hero in this series is an artist. Each heroine in the series is bit damaged. Sometimes the stories get a little too real when complicated family relationships make dating even more challenging. This romantic comedy series is humorous, but also emotionally charged. Books 4 and 5 carry on this tradition.
List of available books in this series
Book 1: Carved In Stone (free download)

Book 2: Created In Fire

Book 3: Captured In Ink

Book 4: Commissioned In White

Book 5: Covered In Paint