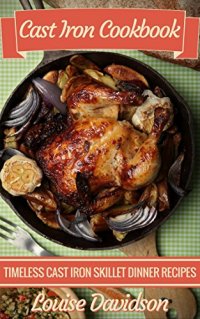 Timeless and Convenient Cast Iron Skillet Recipes?Easy to Prepare One-pot Dinners, so good you will want to make them again and again!
Download FREE with Kindle Unlimited!
Have you been looking for the perfect way to simplify meals and your time spent in the kitchen, without succumbing to prepackaged foods and overcomplicated menu plans? It often seems that the most effective approach is one that has been in front of us all along, in this case, that approach is cast iron cooking. Cast iron is durable, versatile and has proved itself over centuries of use in the kitchen and at the campsite. Now, you can take advantage of this timeless and versatile method of cooking to make your culinary creations more enjoyable, not only in taste but in the preparation as well.
With a cast iron skillet, you can not only prepare an endless range of dishes; you can create an entire meal in just one pan. The features of cast iron that make it unique also make it the perfect vehicle for taking meals that normally require several pans and bringing them together in beautiful, harmonious flavor in just one skillet. This book shows you just how easy one-dish cast iron skillet cooking can be and how even with simple preparations, you can enhance and layer flavors in dishes both classic and new. Along with the recipes in this book, there is practical advice for taking care of and using your cast iron skillet. If you have felt intimidated by cast iron cooking in the past, now is the time to shed your inhibitions and learn how just one piece of cast iron equipment can add pleasure and flavor to every meal.
Inside find:
?Tips to cook with cast iron cook wares.
?2 methods to season your cast iron cook wares.
?How to care and use your cast iron skillets.
?Delectable chicken recipes like the Sage Roasted Chicken.
?Melt in your mouth beef dish like the Creamy Basil Flank Steak.
?So easy to make pork recipes like Easy Sweet Pea and Pork Casserole.
?Favorite Fish and Seafood dinners like the Shrimp and Chorizo Paella.
?Your new go-to vegetarian recipes like the Root Vegetable Pot Pie.
Let?s get cooking!
Scroll back up and click the BUY NOW button at the top right side of this page for an immediate download!
Read on your favorite devices such as Kindle, IPhone, IPad, Android cellular phone, tablet, laptop, or computer with Amazon's free reading Kindle App.