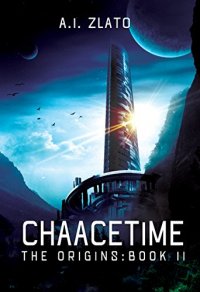 Free on 24th - 28th Oct 17



or borrow free on Kindle Unlimited.
No reviews yet.
Also Available as:

How can you save your city when you can't even trust reality?
Paul's investigation with First Circle Agent Baley has hit a dead end. The string of child suicides continues, and only improbable theories remain. But the worst may be yet to come, as Paul and Baley share a dark vision: a cyclone designed to massacre the City.
Baley watches the panic unfold among the grieving families. Amidst the chaos, an android messiah collects disciples… including Baley's estranged daughter. With her daughter spouting theories too strange to be believed, Baley wonders if she should continue to trust her sanity or open herself up to the madness…
Paul and Baley have one chance to track down the deadly cyclone's creator, but how can they survive when the all-powerful Machine that brought them together may have terrifying ulterior motives?
Chaacetime: The Origins – Book 2 is the gripping continuation of a series of metaphysical sci-fi novels. If you like richly-imagined worlds, bizarre twists, and stories that push the boundaries of reality, then you'll love Irene Zlato's riveting tale.
Buy Chaacetime: The Origins, Book 2 to take a plunge into the impossible today!