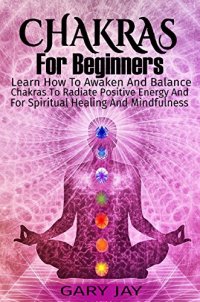 Free on 25th - 29th Jun 16


No reviews yet.
This book appears to be unavailable on Amazon.co.uk at the current time. If this is incorrect, please let us know here
A COMPLETE GUIDE TO AWAKEN, HEAL YOURSELF AND RADIATE POSITIVE ENERGY
Today only, get this Amazon bestseller for just $0.99. Regularly priced at $4.99.

Read on your PC, Mac, smart phone, tablet or Kindle device.
DO YOU EVER FEEL LOST AND EMPTY WITHIN? ARE YOU LOOKING FOR A CHEERFUL, ENERGETIC AND HAPPY LIFE? THEN THIS BOOK IS FOR YOU…
CHAKRAS For Beginners is aimed at educating the readers about the 'Power of the 7 energy points' called chakras, located along the spine. All these chakras are connected to each and every Organ/Gland. If any of the chakra is unbalanced, it can lead to major diseases and complications (mental & physical); which the reason why we are dull, exhausted, sad and life-less.
BUT DON'T WORRY… If you are ready to change your life, then look no further. You have the RIGHT book in your hand
Learn to balance these 7 CHAKRAS and discover the science behind chakra healing.Tap your inner energy and your life won't be the same. The 7 chakras are-
Sahasrara Chakra – The Crown Agnya Chakra – The Third EyeVishuddhi Chakra – The ThroatAnahata Chakra – The HeartBhava Saagar – The VoidNabhi Chakra – The Solar PlexusSwadishthana – The Sacral ChakraMooladhara – The Root Chakra
Here Is A Preview Of What You'll Learn in CHAKRAS For Beginners…
What are chakras and how they work Why we need to balance our chakras to cope with this modern life style The techniques to balance all The 7 chakraschakra mediation and healingTips and Affirmations for practicing chakras balance to enhance your lifeQuestions for Self EvaluationMuch, much

more!
LIMITED TIME OFFER… Take Action today and Download your copy!
Tags: Chakras, chakras for beginners, Chakra healing, Meditation, Mindfulness, Beginner, Self healing, Spiritual healing, Spirituality, Serenity, Balance chakras, Chakra balancing, Yoga, Yoga for beginners, inner peace, enlightenment, Buddhism,