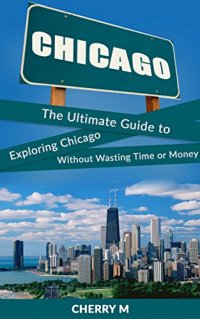 Free on 13th - 14th Sep 15



or borrow free on Kindle Unlimited.
No reviews yet.
There are plenty of options for getting around in Chicago. It is a good idea to have a plan of action before you travel there. Many people assume they need a rental car. It is true you can get one at the airport, but it can be tricky getting around a new city.
Plus, it doesn't allow you to be able to explore and to capture all the beauty around you found in Chicago. Most hotels in Chicago charge a daily fee for parking your vehicle. It can also be difficult and expensive to find parking around Chicago popular attractions.
With that in mind, you may decide public transportation is your best choice. In the next chapter, you will get all the details regarding that. Chances are you have heard about Millennium Park. You may have seen it online or in various movies. Checking it out on your own is going to be an amazing experience.

 

If you enjoy the beauty of the water, Navy Pier is going to be a remarkable place for you to spend some time. There are many sporting events found all over Chicago. There are also quite a few must see attractions you don't want to miss out on.
By the time you are finished reading this e-book, you will be very prepared and excited about your trip to Chicago. You will have a good idea about planning your daily activities, where to stay, getting around the city, and how to save money on the activities you wish to take part in.