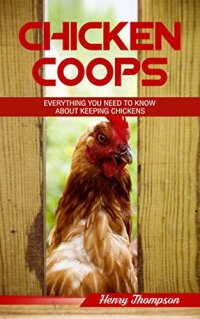 Free on 23rd - 27th Jun 17



or borrow free on Kindle Unlimited.
No reviews yet.
Learn How To Use Planning, Building and Maintaining A Chicken Coop Today With This Easy Step-By-Step Guide!
Do you want a guide on Chicken Coops that takes you from beginner to expert?
Do you want to learn about Chicken Coops in a style and approach that is suitable for you, regardless of your experience?
This book not only provides step-by-step instructions to some of the basic designs a chicken owner will need, it gives suggestions for more advanced coop projects to take on! Are you ready to learn?
If so, Chicken Coop: The Ultimate Step-by-Step Guide to Planning, Building and Maintaining a Chicken Coop (looking after chickens, DIY chicken coop, chicken coop plans, fresh eggs, raising chickens projects)by Henry Thompson is THE book for you! It covers the most essential topics you must learn to become a master of Chickens and their coops.
What Separates This Book From The Rest?
What separates this book from the rest? The unique way you will learn with examples and steps. Many books leave you more confused than before you picked them up, not this book, it's clear concise and implementable.
We make it our goal to write this book in plain easy to understand English that anyone can understand. Gone are the days of highly technical language. This allows you to quickly learn topics, and your new knowledge on Chicken Coops immediately.
To aid you in learning the topics quickly and effectively this book has been designed to be the ultimate step-by-step guide. Making sure that you're confident and clear with each topic before moving on! All of which can be practiced with the projects detailed in the book.
You Will Learn The Following:
What is a Chicken Coop?
Chicks or Chickens?
How many eggs will I get?
Choosing the perfect location
Health and Safety
Problems you should expect
Waterers, nesting box, feeders, roosts
Coop Projects
And much more!
Whether you just want to learn more about chicken coops or have one already and want to get the most out of it, this book is for you.
So don't delay it any longer. Take this opportunity and invest in your self by buying this guide now.
You will be shocked by how fast you learnt the skills required to build your very own coop!
Don't Delay And Scroll Up To Buy With 1 Click