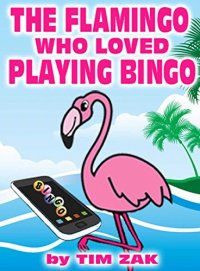 The Flamingo Who Loved Playing Bingo is a read aloud, bedtime nursery rhymes kidsbook that is written in easy-to-read rhyme style. This is the perfect picture book for children from preschool to little kids.
In his latest kids bedtime story, "The Flamingo Who Loved Playing Bingo", Tim Zak — best selling children's book writer — helps children relate to many of the problems they encounter each day through the eyes of baby animals. Tim can help you communicate important messages to your children through rhymes and colorful illustrations!
Here Is A Preview Of What Your Children Will Discover…
This is the rhyming story of Frank the flamingo who loved to play BINGO!

Frank plays BINGO before school, after school, just about any time he can play!

Does Frank realize that his life is passing him by?

The more Frank is playing BINGO and ignoring his chores, his friends, and especially his homework, the deeper in trouble he seems to be heading!

What will happen to Frank when his grades get so bad he may get left behind a year?