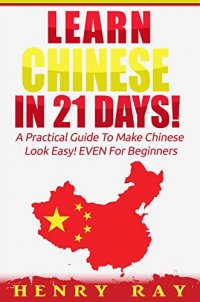 Free on 28th Feb 16 - 1st Mar 16



or borrow free on Kindle Unlimited.
No reviews yet.
Learn Chinese In 21 DAYS!
This book contains 21 highly-informative chapters on the fundamentals of Mandarin Chinese, the most widely spoken language in the world. It is written to address the needs of travellers, entrepreneurs, and students who want to have a good grasp of the language in no time at all. This book is designed for beginners and intermediate learners of Chinese who prefer to learn at their own pace and convenience. It aims to provide self-learners an excellent foundation of the language by imparting essential grammar features, pronunciation, vocabulary, and key phrases in everyday conversations.
The book starts with a few chapters on the basics of the Chinese language — pronunciation, numbers, telling time, months, days, and seasons, telling the year and date, colors, and common greetings. The succeeding chapters cover grammar topics such as parts of speech, word order, forming questions, making comparisons, and other unique features of Mandarin.
Each grammar lesson is presented in a straightforward manner and features relevant examples and charts, which were carefully selected and created to enhance the learner's comprehension and appreciation of the language, as well as to shorten learning time considerably.
Finally, to fast-track your learning path, the book provides vocabulary listings as well as common phrases for different occasions — introducing yourself, talking about your family, asking for directions, eating out, shopping, booking a hotel, and getting around.
Here is what you will find inside:
The Basics Of Mandarin ChineseThe Four Tones In MandarinCounting And NumbersTelling TimeMonths, Days, and SeasonsPronouns PrepositionsAdverbsAdjectivesForming SentencesAsking Questions In Mandarinmaking ComparisonsChinese In ActionUseful PhrasesVocabularyBONUS CHAPTER from "Italian: Learn Italian in 21 DAYS! – A Practical Guide To Make Italian Look Easy! EVEN For Beginners"And Much, Much More…
Download Your Copy Right Now!
Tags: chinese, learn chinese, spanish, learn spanish, french, chinese language, learn french, german, learn german, italian, learn italian, portuguese, learn portuguese, language learning