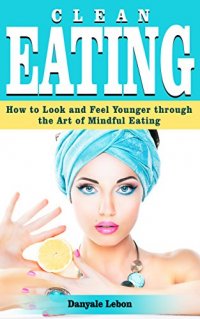 Free on 5th - 9th Mar 15


No reviews yet.
This book appears to be unavailable on Amazon.co.uk at the current time. If this is incorrect, please let us know here
Discover the Secrets to Anti Aging, Being Happier, Looking & Feeling Younger through the Power of Clean Eating Natural Remedies!
Click the "BUY NOW" or "Read for Free" w/ Kindle Unlimited" button at the top of this page and Unlock Your Body's Self-Healing Ability to Restore Balance, Youthful Energy and Glow!
Clean Eating is perhaps the best way to approach a healthy lifestyle without some of the more strict limitations of other diets. In fact, it is more of a lifestyle choice rather than a strict diet, which is what makes it perfect for anyone, anytime, anywhere! If you're looking for the perfect solution to looking and feeling younger this is the most natural and long-lasting way to go!
How Can Clean Eating Make Me Look & Feel Younger?
By being mindful of what you choose to put into your body for nutrition, clean eating helps by focusing on the elimination of processed foods from your diet and replacing them with all natural unprocessed ones. Many people link eating a processed diet to increased anxiety, depression, fast aging, fatigue, ugly skin and even damaged, brittle hair. With this book, you'll learn the key ingredients to turning back your biological clock in a sense, naturally. Through mindful practices and building habits to use these recommendations, you'll be on your way to achieving your best health and appearance…EVER!
What You'll Learn:
Top food mistakes that you might be making that will cause you to look older and how to avoid them!How even nutritious food can be abused to cause your body harm and how to make sure you don't fall into this trapHow clean eating can restore youthful glowing skin, strong hair and wonderful smile!Clean eating tips to help eliminate depression & anxiety naturallyAnd so much more!

So what are you waiting for? Download your copy now and get exclusive access to the best anti aging, natural remedies that will help you look & feel great!
Just Click the "BUY NOW" or "Read for Free" w/ Kindle Unlimited" button at the top of this page to get your copy of "Clean Eating: How to Look and Feel Younger Through the Art of Mindful Eating (anti aging, natural beauty tips, anxiety cure)" today!
Tags: essential oils, mindful eating, mindfulness for beginners, natural cures, natural remedies, anti aging, anxiety cure