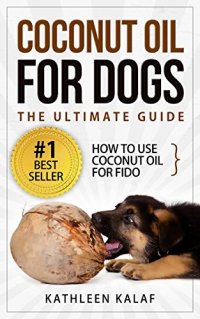 Free on 15th - 18th Mar 15



or borrow free on Kindle Unlimited.
No reviews yet.
This number one best selling book is now available on Amazon globally!
Learn all about Coconut Oil for your Beloved Dog in 30 minutes or less!
In this book, you will discover how to use coconut oil for your dog. Fido will love you for it!
Read on your PC, Mac, smart phone, tablet or Kindle device.
The popularity of coconut oil has increased dramatically over the past few years among a growing number of people who have discovered its use for both health and home, and it's advantages for your pets should not be ignored! With a little education, you can pass these health benefits onto your dog! Coconut oil is beneficial for our pets for many of the same reasons it is beneficial for us.
Coconut oil is a highly effective treatment for a wide variety of common health problems and because of this, it has gained a reputation as a superfood, a food that provides health benefits far beyond it nutritional content. Coconuts and coconut oil have a long history of safe and effective use as food and medicine for us as well as our pets.
Coconut oil is good for dogs and can help aid your pets' digestion, improve their coats,

help prevent disease and infection, boost their immune system, and help to prevent and control diabetes. It can also reduce cancer risks.
This eBook is a 30 minute short read that will teach you everything you need to know about coconut oil for your dog to enable you to start using it right away!
Here's a Preview of What You'll Learn
Introduction

Why Should You Use Coconut Oil

Benefits of Coconut Oil for Fido

Finding the Best Coconut Oil for Fido

How to Use Coconut Oil Orally and Topically

Conclusion
Kathleen Kalaf, the author, survived from a very serious health condition as a result of being over prescribed antibiotics, and she nearly lost her life. She became involved in natural health and healing and she learned to heal herself. Now a serious health nut, she embraces natural healing whenever possible. She is a graduate of the Institute for Integrative Nutrition in New York City and a trained holistic health practitioner, and lives in Southern California.
She has two dogs, Dakota and Madonna, and they are the love of her life. Kathleen began using coconut oil on her pets, after she had a serious struggle with Dakota with his allergies. The poor little guy just would not stop scratching, and his skin was always bothering him. She made some changes to his diet, changed his bedding, and added coconut oil to his food, and he has made a remarkable recovery.
Essential Oils For Your Pet, Simple and Safe Home Remedies for Fido, another book by this author, has also been a number one best seller on Amazon.
In less than 30 minutes, you will be well on your way to knowing how to safely use coconut oil for Fido! Here's to a fruitful and healthy life with your best friend!
Download your copy today! To order Coconut Oil For Dogs: How To Use Coconut Oil for Fido, click the buy button and download your copy right now!
Tags: