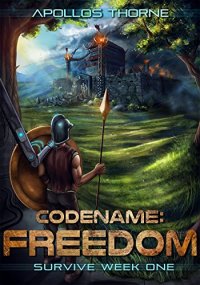 Free on 26th - 30th Sep 17



or borrow free on Kindle Unlimited.
No reviews yet.
Greetings! Are you ready to see your favorite celebrity gamers and athletes fight for their lives in a fantasy world? You are in the right place! They will participate using new Virtual Reality technology unlike anything the world has ever seen! The ultimate level of immersion is here! This is no rudimentary headset! To run they must run! To fight they must fight! To win they must win! But, if they lose… If they die? 
 
—
 
The year is 2387. The government has accelerated their super soldier program. Their new Virtual Reality system is the perfect tool to train soldiers for the coming war. There is a shortage of enlisted men and women that possess the "talent". Everyone from athletes to professional gamers must be sorted and vetted. Humanity is on the line.
 
Lucius is one of those lucky few selected to participate in Codename: Freedom, a new game that promises to push Virtual Reality to the ultimate level.
 
Unknown to him, the Game Developers have no time to waste. With the pain dampeners turned off and an army ready to attack the new players as they enter Codename: Freedom, he will have to ask himself an unexpected question. Is his dream worth suffering for? Will he quit, go mad, or find the motivation to fight when it becomes painfully clear that this is far from just another game?