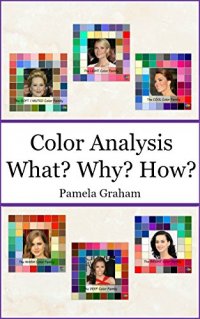 Free on 24th - 28th Mar 17



or borrow free on Kindle Unlimited.
No reviews yet.
This is in no way a scientific explanation of the Color Theory but a purely innovative and easy to understand approach to the What? Why? and How? of Color Analysis. A wealth of images and 6 different color palettes bring the writing to life.
Color is a magical medium and with just a little know-how you can discover the colors that will complement your natural coloring and bring you to life.
It was written to serve three main purposes:
?As a concise reference point for anyone who?s interested in the subject of Color Analysis
?To explain very simply how to find and enjoy a color direction that makes you feel comfortable and more like YOU?
?As a comprehensive starting point on a journey into the magical world of color once you?ve got the bug!
WHAT? Color Analysis perfectly emulates the natural world and works from the inside out. The natural colorings in your hair, eyes and skin tone were all decided at the moment of conception ? all you have to do is identify them.
WHY? Most women wear 80% of their clothes 20% of the time but buying clothes you don?t wear is a complete waste of money. Finding a color palette that makes you look and feel good will also save you time and money.
HOW? Understand how Color Analysis works, practice on familiar faces and you?ll discover an easy way to identify your own best colors.
Although Pamela clearly explains how to wear and enjoy each of the Color Families, she also sweeps away old fashioned hard and fast rules. Her main criteria is that you should always wear what makes you feel good because COLOR IS HERE TO BE ENJOYED!
The 6 COLOR FAMILIES
You know that feeling of coming home, that feeling of safety surrounded by your loved ones, well your COLOR FAMILY should make you feel just as comfortable because many of your best colors are likely to be firm favorites already.
For each Color Family you will find:
?Your natural coloring
?Your best color selections
?Your best neutrals
?How to wear your colors
?Colors to avoid
?Best colors for makeup
?Best colors for hair
?How to choose glasses frames
?Best choice for jewelry
?Some familiar faces so you can recognize the coloring
?45 shade color palette with access to a download link
Color Palettes
Having the 45 shade color palettes ready to access and download is a unique idea. You can print, laminate and make up a swatch fan that mirrors a fabric color swatch. If you have a good eye this may well be enough for you to organize your wardrobe and for shopping. Colors of course are dependent on your own monitor and printer.
It?s a simple process?
There have been innumerable attempts to update and devise new methods of Color Analysis but they are all based on a simple process of linking colors with your own natural coloring.
Most of all, it?s about surrounding yourself with the colors that make you look and feel BEAUTIFUL!
Now what?s wrong with that?