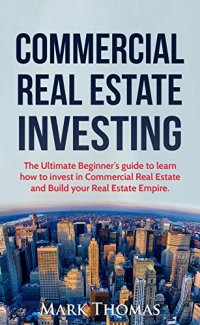 Free on 27th Sep 16 - 1st Oct 16



or borrow free on Kindle Unlimited.
No reviews yet.
Discover The Ultimate Beginner's Guide to Learn How to Invest in Commercial Real Estate and Build your Real Estate Empire. Then be able to Achieve Financial Freedom and Live The Life Of Your Dreams!
Real estate has been in existence since people have decided that living in caves was no longer an option. However, most progress in real estate has probably happened in the last two century or so with the invention of the elevator. Elevators made it possible for real estate to include high-rise office buildings, multiple-floor residential apartment houses, and shopping malls.
Investing in commercial real estate is very different from dealing with residential properties. Oftentimes commercial real estate deals require very little or even no capital. While commercial estate can be very risky, it can also be very safe because of a number of things you can do with commercial buildings that you can't do with residential dwellings. We will discuss all these differences and strategies later on in this book.

Most people think that investing in commercial real estate is very similar to dealing with residential properties with the only differences being that that the money amounts are larger and contracts are longer. The reality is completely different.
There are a lot of distinctions between commercial and residential real estate when it comes to legal, practical and operational aspects.
Investing in commercial real estate is a great way to build wealth. The reason why commercial estate is a great vehicle for generating wealth can be explained in one word. This word is leverage. Leverage when applied to commercial real estate means that your returns from your commercial real estate investments can be much bigger than the time and effort you put into this business. Commercial properties are usually much more valuable than residential real estate such as apartments, condos or houses. This means that once you are able to apply strategies that we discuss later in this book, you will be able to acquire properties with very little money and witness the magical powers of leverage work wonders for you.
Here Is The Overview Of The Lessons You Will Learn
What is Commercial Real Estate Reasons to Invest in Real EstateDuration of the LeasesThe Potential Issues in Real EstateHow valuable is Real EstateHow To Find Tenants in Real EstateHow to Find Great Real Estate DealsAnd Much More..
Take charge and change your life right now! BUILD YOUR EMPIRE
Commercial Real Estate, Real Estate, Real Estate Investing, Passive Income, Financial Independent, Personal Finance.