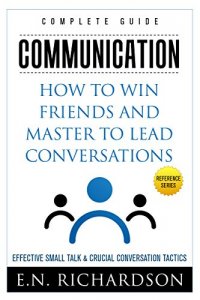 Free on 30th - 31st Jan 16



or borrow free on Kindle Unlimited.
No reviews yet.
*** Reference Guide to Communication *** Effective and Easy Small Talk & Crucial Conversation Tactics! How to Win Friends and Master to Lead Conversations
No matter if you want to feel confident and easy speaking with strangers, lead conversations more effective or captivate your audience within seconds. This book is your reference guide to "Win Friends and Master to lead Conversations".
Experience the essence of communication skills, gained from the best communicators and speakers around the globe. Composed as a mixture of a proven step by step guidance, with highly effective and easy to read writing – this book will help you to get the most out of improving your communication and conversational skills!
What you will find inside the book:
Rock-solid advice that carried thousands of people up the ladder of success in their business and personal lives.How to make people like you instantlyHow to win people to think your wayHow to never run out of words againHow to change peoples behavior – the smart way
From the Author E.N. Richardson:
"I have written this book for the pure purpose of creating a reference guide to all major communication issues. No matter if you want to feel more confident communicating with others (strangers) or if you are a communication expert, searching for crucial conversation tactics to gain higher effectiveness and success – This book will be your key to reach your goal.
Boost Your Success in Life!" – with these proven steps, tips and strategies on how to communicate easy and effective.
Grab your Copy of this highly valuable book today – after Promotion the book will be sold at $6.99!
Check Out What Others Are Saying on the books of E.N. Richardson…
"… The author has done a great job in writing such a book …." by Alan

"… This is will become your guide to refer in the future to …" by Tag

"… This book is full of advice and tips that will direct you towards success …. and the accomplishment of your goals." by J

"… Very well written and the step by step self help is wonderful…" by Adiv

"… highly recommended!" by Stefanie

"… simply the best step-by-step guide I have read so far… " by S.Paulson
Grab your Copy of this highly valuable book today – after Promotion the book will be sold at $6.99!
Tags: Communication, Communication skills, communication skills training, success, conversation, conversation tactics, Small Talk, Conversational Tactics, Emotional Intelligence, lead conversations