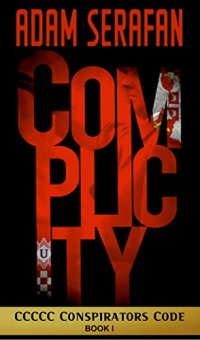 Free on 27th Mar 15



or borrow free on Kindle Unlimited.
No reviews yet.
COMPLICITY

An international, political conspiracy thriller with the heart-pounding risk of James Patterson's Alex Cross;

The intensity of David Baldacci;

The audacity of Lee Child's Jack Reacher

The sweeping implications of A.G. Riddle's Atlantis series;

The riveting twists of John Grisham;

The irreverence of Harlan Coben;

and the resonance of Chuck Palahniuk's Fight Club
THE CCCCC CONSPIRATORS CODE SERIES
CAN YOU FIND THE CODE, AND IF SO, HOW WILL YOU USE IT?
Call them what you will:
THE ILLUMINATI, NEW WORLD ORDER, NWO, BILDERBERG'S, ELDERS OF ZION, SECRET ORDER OF JESUITS, GLOBAL ELITE, WORLD BANKERS, THE 300 CLUB, ONE OF THE 13 BLOODLINES…
We have, since the beginning of time, been manipulated by a merciless, powerful few who conspire to suppress humanity. The means of defeating the oppressor is at last at hand, provided via a code found in each of five books:
Book 1: COMPLICITY

Book II: CONCURRENCE

Book III: CONCORDAT

Book IV: CABAL

Book V: COLONY
CAN YOU FIND THE CODE, AND IF SO, HOW WILL YOU USE IT?
Book 1: COMPLICITY
Journalist Duke Johnson is plagued by a mistake he made at the onset of his career.

While covering the wars in Yugoslavia he lied about the perpetrators of a heinous event, making a name for himself as well as creating international backlash against the supposed wrongdoers.
No one will listen to the truth as his lie backfires. His lie has been manipulated and is being used by NATO as justification for bombing the country, placing thousands of innocent people and the woman he loves and left behind, in danger.
Now, he is about the receive the Pulitzer for this lie.
Terrified and desperate, Johnson must turn the tables on the real criminals and expose the truth despite the risk to himself. The stakes are immense: will Johnson's sacrifice be enough to save a country and the woman he loves?