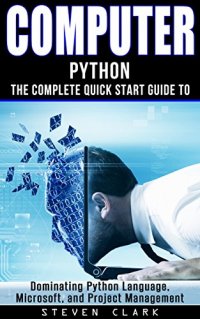 Free on 28th Dec 15 - 1st Jan 16



or borrow free on Kindle Unlimited.
No reviews yet.
Python – Making Your Programming Tasks Easier.

? ? &# This Book is FREE – For Kindle Unlimited Users. ? ? ?

Programming made easy!

You might have heard this before "Programming starts in the mind". If you think like a programmer or passionate about it, there is one famous scripting language that can help you out.
Python can be of great use to any application domains like, web and Internet development, software development, scientific and numeric computing. If you look at it Python can be a great vehicle for teaching programming and thus make a career out of it.
Computer: Python- The Complete Quick Start Guide To Dominating Python Language, Microsoft, and Project Management is a book made especially for beginners who wish to be increase their knowledge on python use, and to enhance your skills by going back to the very basics. After all, the basic are the most fundamental part of anything allowing you to remember the very foundation of a specific subject.
In This Book, You Will Learn:

o An Overview On Python

o Basic Syntax of Python

o Date And Time

o Data Structures In Python

o Lists in Python

o Exceptions – All About Exceptions

o Loops And Conditionals In Python

o Functions

o Project Management In Microsoft Visual Studio With Python

If you think that programming is challenging, well you wouldn't have to think that way anymore! Python is here to save the day!
When you finish reading this book, you'll be glad that you bought! Because you will learn so many things that can make you a better programmer and who knows? You might be surprised to get a phone call from prestigious companies hiring you to be one of their skilled programmers!
So what are you waiting for?
Grab your copy NOW and enjoy the ride!
Just scroll up and hit the "Buy" Button.
You won't regret it!