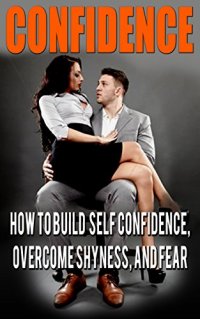 Free on 3rd - 7th Mar 15


No reviews yet.
This book appears to be unavailable on Amazon.co.uk at the current time. If this is incorrect, please let us know here
Confidence: How to Build Self Confidence, Overcome Shyness, and Fear
Today only, get this Amazon bestseller for just $0.99. Regularly priced at $4.99. Read on your PC, Mac, smart phone, tablet or Kindle device.

You're about to discover how to…
This book contains proven steps and strategies on how to successfully boost your confidence so you can get the girl of your dreams. Let's face it, women want a man who has confidence without being cocky. And lacking confidence doesn't only affect your love life, it also has a negative impact on your career, self-esteem and relationship with friends and family.

If you follow the instructions in this book, however, you will begin to see a drastic improvement in your confidence, how you feel about yourself and how others treat you.
Here Is A Preview Of What You'll Learn…
LEARN HOW NOT TO HAVE DESIRED OUTCOMESLEARN HOW TO LOVE REJECTION5 MUST HAVE TRAITS WOMEN WANT IN EVERY CONFIDENT MANSWAGGER TIPSDIFFERENCES BETWEEN COCKY AND CONFIDENTHOW TO FAKE IT UNTIL YOU MAKE ITOVERCOME SHYNESSDESTROY FEARMUCH, MUCH MORE!

Download your copy today!
"The path to success is to take massive, determined action!" – Anthony Robbins



Check Out What Others Are Saying…
"This book is so wonderful, explaining exactly what self-confidence is and why it is important for being a successful person. The author also goes on to explain how we initially develop our self-confidence and goes through scenarios that can cause us to have grown up with a diminished sense of self-confidence. There is one very special part in this book that I keep re-reading. It shows such deep wisdom I want it to stay with me always. It is the section on romantic relationships and how they are tied to our self-confidence. If your self-confidence is low, has the eagerness to step up but do not know how and when to start, this book would hold your hand all the way before you even take your first step. It would contribute strength to your spirit and mind as it would guide you to know yourself better and get deep inside to have the drive and full trust in your own abilities."
"Great book that gives solid advice for anyone looking to break out of their shell. It helps mold your perspective and helps you overcome your own mental barriers when it comes to socializing, perfect for any shy person out there. Concise yet thorough, this book cuts through the fluff and gives you what you need to know on how to build self-confidence."
"I have some shyness/confidence issues and at first I was kind of skeptical whether I can learn about the subject from a book, but this book touched topics and techniques I was happy to learn about and I think these techniques will help me improve on my lack of confidence. The book covers the aspect of self esteem and confidence from different angles which makes the read interesting and can have something for everyone.

I would definitely suggest this book to anyone struggling with confidence issues and who is willing to change/improve his life and willing to put the work for it."
Tags: confidence, self confidence, self esteem, confidence for men, self confidence secrets, how to pick up women, how to deal with fear, how to deal with shyness, shyness, fear, social anxiety, social anxiety cure, social anxiety solution