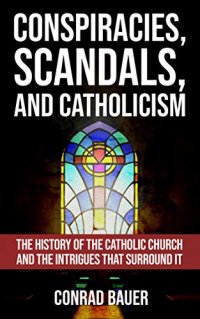 Discover the twists and turns of the most powerful religious institution in the World and how it has remained, even today amidst scandals and intrigues, the most influential religious powerhouse on Earth
The Catholic Church has hit some hard times recently. The scandal, ideological discord, and inner turmoil of the past few decades would have destroyed many organizations. Yet the Church is by no means in decline?it?s bigger than ever, and membership is on the rise. And following the election of Pope Francis in 2013, the papacy is more popular than ever, too. Just when you?d have thought the Vatican was down for the count, it?s back on top. So what?s the secret behind this resilient institution?a church which claims to be 2,000 years old? Read to find out!
Inside find:
?The beginning of the Catholic church: ?the rock?
?Conspiracies of the Council of Nicaea
?Conspiracies of an Apostate
?Did the Papacy Found Islam?
?The Sack of Constantinople?Was Pope Innocent III Not So Innocent?
?Catholic Conspiracies of the Knights Templar
?Vatican Secrets and the Society of Jesus
?And much more!
Download FREE with Kindle Unlimited!
Read on your favorite devices such as Kindle, iPhone, iPad, Android cellular phone, tablet, laptop, or computer with Amazon's free reading Kindle App.
Scroll back up and click the BUY NOW button at the top right side of this page for an immediate download!