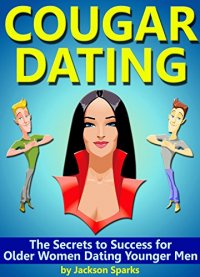 If you're an older woman interested in dating hot young men, then this book is for you!
Read on your PC, Mac, smart phone, tablet, or Kindle device.
In today's dating scene, all is fair in love and attraction. We are no longer living in times where you can only date certain people of a particular race, social class, economic standing, or educational background. Yes, even gender and age are now subject to our own tastes and preferences! For an older woman, dating younger men promises fun and adventure in more ways than one. Beyond the obvious advantages, a young man sees the world with fresh eyes that can influence you to take a different perspective on life. Not to mention, younger men will certainly be youthful, energetic, and lively – both in and out of the bedroom. They will also be more receptive to (some will even ask for) you taking the reins in the relationship every now and then. Sounds pretty good, doesn't it?
But on the other side of the coin, what's in it for them? And what does it take to create a sense of attraction with a younger man? That's where this book comes in. I'll explain exactly what can make you so appealing to the younger man. You'll learn specific and practical tips, like where to go, what to say, and how to dress (without betraying your sense of self) so that you can take your dating life to a whole new, younger, level. I'll also divulge all the subtle moves you need to catch his eye, and tips to keep him interested for as long as you want. In essence, this is a must-have handbook for cougar dating success.
Here Is A Preview Of What You'll Learn…
Why it Doesn't Matter that Age MattersDiscreet Moves to Attract Younger MenWhere to Prowl and How to Growl (Making a Good First Impression)Using Your Maturity and Experience as a Sexy AdvantageRomancing the Younger Man and Shooting for Long TermSide-Stepping Common Pitfalls of Cougar DatingMuch, much more!Download your copy today!