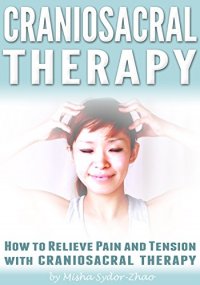 If you want to learn how to use Craniosacral Therapy to relax and feel relief from stress, pain, and fatigue, then this book is for you!
Today only, get this incredibly useful guide for only $2.99. Regularly priced at $4.99. Read on your PC, Mac, smart phone, tablet or Kindle device.
Wouldn't it be great if we could easily relax and feel relief from stress, pain, and fatigue? And without going to a doctor, gulping down pills, or getting pricked by needles? Wouldn't it be a gift if you were able to read the subtle signs your body sends in distress, and then correct the problem before it becomes intolerable? Well, believe it or not, this is indeed entirely possible. Craniosacral Therapy is an alternative healing technique based on the idea that there are small rhythmical vibrations between the various bones of the skull, face, and backbone. Through gentle and specific touch, these vibrations and the regulation of cerebrospinal fluid are used to cause physical and mental relaxation and spark self-awareness of one's own body, its depth, and its untapped potential. This book will explain the fundamental concept of Craniosacral Therapy, and will take you through numerous simple exercises and techniques that you can perform on yourself so that you can come to understand the inner vibe of your own body and take the first step in the journey of healing.
Here Is A Preview Of What You'll Learn…
Setting the Scene (Time, Comfort, Ambience, Touch)Preparation and Loosening UpGet an Inner Reach (Exercises for 6 Body Parts)Sensing your SensesSegmental Pain ReliefMuch, much more!Download your copy today!
Tags: craniosacral therapy, craniosacral, cranio sacral, cst, chakras, healing touch, osteopathy, reiki, healing hands, healing touch, pain relief, fatigue, stress, pain, healing