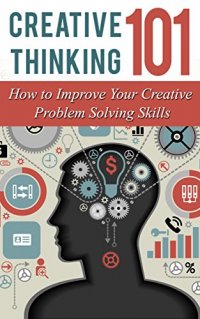 Do you want to boost your creative juices?
Inside Creative Thinking 101, You'll discover 14 ways that will excite the creative process within you, ways that will have your creative ideas jumping right out of your head.
There are some people (I'm not saying you're one of them) that believe they are not creative, you have probably heard the saying "I don't have a creative bone in my body", while "technically" (biologically speaking) they are correct, none of us really do, but the fact is, we are all creative, our creativity just comes out in different ways.
By reading this book "Creative Thinking 101" you'll learn many methods you can use in any area of your life to get you thinking creatively, this will help you with creative problem solving, help bring out more creative ideas.
The more you believe you are infinitely creative, the more creative you'll get.

The more you trust in your abilities, the more you'll use your creative problem solving skills, which will increase your creative thinking skills.
Bottom line, if you are having creativity issues, read this book and discover the ways to help you overcome your stuckness.
Click the Buy Now button above to get your copy now
tags; creative problem solving, creative thinking, creative process, creative nonfiction, creative ideas, creative thinking skills, critical thinking skills