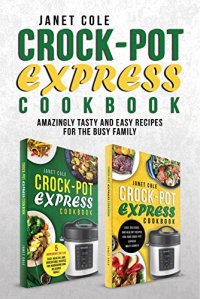 This book will be Free on 21st Aug 22
Set a Reminder:
Google Calender - Yahoo Calender - Live Calender
---
We all know that cooking at home is the best way to save money and eat well, but it can be time-consuming and hard. This book can change that!
Crock-Pot has recently released its first slow cooker/pressure cooker. It?s called the Express Multi-Cooker, and it boasts 8 cooking programs and functions, dishwasher-safe parts, and the reliability of a nearly 50-year old brand. This cookbook gives you all the information you need to use the Crock-Pot effectively and safely, while also providing you with a giant resource of great recipes for every meal of the day.
Intimidated by the idea of a slow cooker or a pressure cooker? Don?t be! The Express Multi-Cooker has an easy-to-use control panel with clear labels, and the cookbook walks you through all of them. You?ll learn what all the default programs mean, how to pressure cook and adjust from low to high pressure, and how to convert between slow cooker and pressure cooker recipes. Even if you?ve never used an appliance like this before, you?ll be amazed to find out how easy and convenient it is.
Once you?re comfortable with the Crock-Pot?s operation, it?s time to try the recipes! You?ll have enough to last months or even years. Dishes include:
Egg ?n Meat CasserolesCheesy PotatoesSteel-Cut Oats w/ Coconut MilkToasty Blackberry GranolaMarinated Short RibsHawaiian BBQ ChickenTexas-Style BrisketMango-Jalapeno PorkShrimp AlfredoClassic Vanilla CheesecakePeanut-Butter Fudge
Whether you want to throw together a quick meal or cook something overnight for a family holiday, there is a recipe in this book for you! The food is meant for busy families who like simple, classic meals most of the time, but who also might want to try something unique once in a while. If this describes you, what are you waiting for?